Reflective Parenting Book Launch
'Reflective Parenting: A Guide to Understanding What's Going on in Your Child's Mind' by Alistair Cooper and Sheila Redfern (Head of Service, Anna Freud National Centre for Children and Families) has been published this week.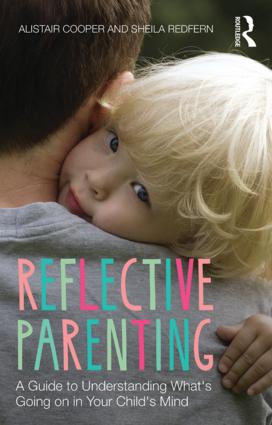 Reflective Parenting provides practical advice and strategies on how parents can bring meaningful change to their child's behaviour and emotional well-being, and support their development, by adopting a more reflective style of parenting.
Written by leading clinical psychologists Alistair Cooper and Sheila Redfern, Reflective Parenting is filled with practical advice to help parents form a better relationship with their child, starting from the development of their baby's first relationship with them as parents, to how they can be more reflective in relationships with toddlers, children and young people. By focusing on what's going on inside their child's mind, a better connection is established between parent and child leading to better outcomes in behaviour, emotional functioning and cognitive development.
Peter Fonagy said: "While this book is aimed at parents, it is just as important for professionals working with parents to read. The authors offer sound advice throughout, and do so in an entertaining and perhaps even gripping style. There is a 'page-turner' quality to the book, which comes from the application of a key principle of reflective parenting: they arouse curiosity in the reader. You read and you want to find out what happens next. The curiosity is hopefully infectious - in the sense that curiosity about what is going on in a child's mind is what reflective parenting is all about."
The book was number 1 Best Seller for family therapy books on Amazon on 24th September.
Book Launch
We are hosting a book launch at the Freud Museum from 18.30 to 20.30 on Friday 9th October to celebrate the release of 'Reflective Parenting: A Guide to Understanding What's Going on in Your Child's Mind' by Sheila Redfern and Alistair Cooper.
It will begin with a short speech by Professor Peter Fonagy, followed by brief speeches from Ali and Sheila about their work on the book, some words from a parent and then an informal drink for guests to socialise. There will also be an opportunity to buy a copy of the book at a discounted price and to have it signed by the authors.